INTRODUCTION
ITV is committed to high standards of ethical corporate behaviour towards our colleagues and other stakeholders.
This Policy sets out our commitments to encouraging and facilitating Speaking Up about concerns relating to
malpractice or impropriety within, or involving ITV, or any of its companies. The Policy sets out the channels via which
you can Speak Up responsibly and effectively. ITV is committed to addressing promptly, fairly and confidentially,
Speak Up concerns that are reported to us.
WHO DOES THIS POLICY APPLY TO?
This Policy applies not only to employees of ITV, but also to any apprentices, individuals on work experience, agency
workers, contractors, freelancers, shareholders, programme-makers, producers, programme participants, and any
others acting on behalf of, or working with, ITV (agents, representatives, volunteers, suppliers). This Policy also
applies to members of staff, family members and anyone else who has reported an issue.

WHAT DOES ITV STAND FOR?
ITV makes every effort to optimise its working environment. Doing so necessitates proper, consistent management
and a good working atmosphere, with integrity and respect as key concepts.
We are committed to providing a safe and healthy working environment and consider it important that everyone
within ITV feels safe and is treated with respect. It is also important that there is understanding for race, gender, world
view, age and other differentiating factors.
In addition to integrity, respect and understanding, we seek to promote collegiality and open communication:
● Be considerate of each other;
● Treat others fairly and respectfully;
● Keep to any agreements you make;
● Listen to each other;
● Share any knowledge and information you have.
In addition to specifying the conduct people within our organisation are required to display, we also want to be clear
about inappropriate behaviour and how we deal with this.

WHAT IS INAPPROPRIATE BEHAVIOUR?
Inappropriate behaviour is behaviour towards another person that is perceived as threatening, humiliating or
intimidating. Examples of such behaviour include sexual harassment, discrimination, aggression, violence and
bullying. Specifically, the following behaviour is deemed inappropriate:
Sexual harassment: any form of inappropriate sexual conduct, such as sexist remarks, objectionable behaviour or
unwanted groping during which behavioural boundaries are crossed.
Discrimination: any remark involving the unequal or discriminatory treatment of people in respect of factors such as
their religion, gender, origin, race, personal beliefs, political leanings or sexual orientation.
Aggression, violence and bullying: occurrences in which someone is psychologically or physically harassed, threatened
or attacked.
Bullying: the systematic infliction of physical, verbal or psychological harm. Examples of how this is achieved include
social isolation (ignoring or excluding someone), making work impossible (withholding information, deleting files,
etc.), mockery or gossip.

WHAT IS OUR ATTITUDE TOWARDS INAPPROPRIATE BEHAVIOUR?
We disapprove of any form of inappropriate behaviour (ZERO TOLERANCE). Inappropriate behaviour will therefore not be tolerated under any circumstances. Our company pursues an active policy for preventing and tackling inappropriate behaviour. This Code of Conduct is an important part of that. We ensure that staff are made adequately aware of these rules of conduct and monitor compliance with this Code of Conduct. The company's board members and line managers are aware that they are to set an example and promote the respectful treatment of others, as set out in this Code of Conduct, through their words and actions. In its role as an employer, the company aims to make clear what behaviour is and is not permitted through this Code of Conduct. However, it is important that each individual is also aware of his/her own boundaries. Where possible, you should indicate where your boundaries lie. Inappropriate behaviour should be addressed, either by confronting those involved directly or by enlisting the help of third parties. Anyone becoming aware of inappropriate behaviour must take appropriate action to bring it to an end as soon as possible.

WHY SHOULD I SPEAK UP?
At one time or another we have all had concerns about how things are being done at work. Usually these concerns are
easily resolved. If your concerns are not about your own situation and instead relate to a risk to colleagues,
customers, suppliers or ITV, it can sometimes be difficult to know what to do. You may feel unsure about raising such
an issue and prefer to keep it to yourself because you think it is none of your business, or that your concerns are only
suspicions. However, if something is troubling you that you think ITV should know about or look into, we would
strongly encourage you to raise it at the earliest opportunity. If we don't know about it, we can't fix it.
Remember, you do not necessarily need to have hard evidence to express a concern. If you reasonably suspect
that wrongdoing has taken place or is about to take place, this is reason enough for speaking up about it.

WHEN SHOULD I SPEAK UP?
Although not an exhaustive list, Speak Up is intended to be used to raise concerns over:
● Concerns regarding widespread racism, discrimination or sexual harassment, potentially affecting multiple
individuals;
● Inappropriate or unethical behaviour that is contrary to our values;
● Abuse of power;
● Malpractice, fraud, bribery or corruption;
● Duty of care concerns;
● Failure to comply with a legal, compliance or regulatory obligation (including breach of local broadcasting or
advertising codes);
● Other criminal offences or illegal acts (including fraud);
● Protection of the best interests of a child, or modern slavery;
● Accounting, auditing matters or financial reporting practices;
● Breach of the Company's Code of Conduct or other Company policies;
● Miscarriage of justice;
● Concealment of information relating to any of the above.
HOW DO I RAISE A CONCERN?
If you yourself experience any wrongdoing or observe wrongdoing committed towards/by others, you can decide who
to report this to. There are various options:
If you feel you can raise your concerns with your line manager, this is the best option. It may be
possible to resolve your concern by discussing it with your line manager.
If you would prefer not to go to your line manager, or if you feel that your line manager is not taking your
concerns seriously, you can contact HR, the Board of Directors or a member of senior management, or
the internal or external confidential counsellors (see the 'WHERE CAN I GO
IN CASE OF WRONGDOING?' appendix).
If you have taken the steps outlined above but think that the wrongdoing is continuing, or if the issue is
so serious that the above steps are insufficient, you can file an official complaint (see Grievance
Procedure)
If you are uncomfortable using the procedures outlined above, or where you believe that your concern
has not been adequately addressed, please use our independent confidential Speaking Up facility,
provided by an independent third party, Safecall.
If the above procedures prove inadequate, you have the option of contacting the appointed officer and
the chair of ITV's Audit & Risk Committee: Margaret Ewing at 0777 031 8564.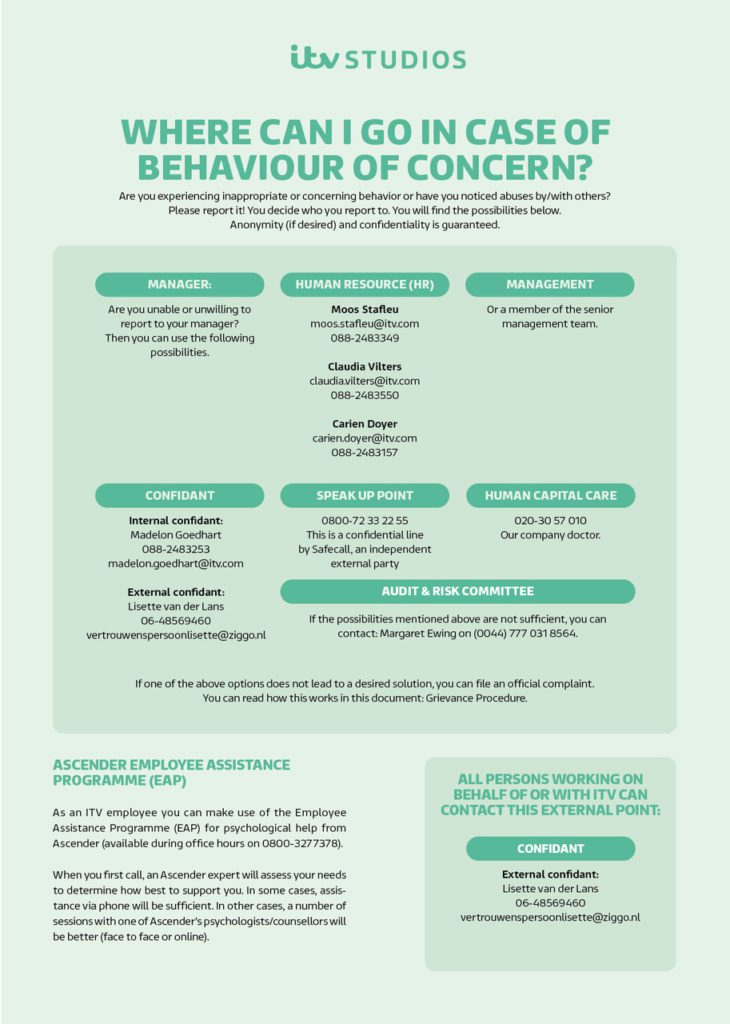 If you experience inappropriate behaviour yourself, you can confront the perpetrator directly (bringing in a third party
if you wish) if this is possible. The aim of the conversation is to make it clear that a boundary has been crossed,
explicitly stating what that boundary is. Remember that the desired outcome of the conversation is for there to be no
recurrence of the inappropriate behaviour in the future. While events of the past are discussed, no agreement on
these needs to be reached. The point is to ensure that certain behaviours do not recur in the future so that no
complaint needs to be made about them.
If you do not feel comfortable entering into such a conversation on your own, you can ask a third party to be present.
If the person and/or line manager would like a sanction to be imposed or for the conversation to be recorded in
writing, determination of whether the perpetrator did actually engage in transgressive activity does need to be
explicitly investigated and established. In most cases, this means filing a complaint and investigating it (see the
Complaints Procedure Policy).

WHAT DOES ITV DO ABOUT INAPPROPRIATE BEHAVIOUR?
Inappropriate behaviour will not go unchallenged or be without consequences.
If, following investigations, it is established that inappropriate behaviour has been displayed, ITV will impose an
appropriate sanction. What is deemed appropriate will be considered for each situation. Options include a warning,
suspension, demotion, transfer or even dismissal. The measure associated with the violation in question will depend
on the severity of that violation.

CONFIDENTIAL COUNSELLOR
If you experience or observe any inappropriate behaviour, you can contact the confidential counsellor. The person
being accused of inappropriate behaviour may also approach a confidential adviser.
Our internal confidential counsellor is Madelon Goedhart, who can be reached on 06-55703376 or at
madelon.goedhart@itv.com, and our external confidential cousellor is Lisette van der Lans, who can be contacted at
vertrouwenspersoonlisette@gmail.com or on 06-48569460. You also have the option of informing the hotline for
reporting undesirable behaviour in the Dutch cultural and creative sector (Meldpunt ongewenste omgangsvormen
Nederlandse culturele en creatieve sector) by emailing Jeanette Jager: jager@devertrouwenspersoon.nl or Freek
Walther: walther@devertrouwenspersoon.nl.
A confidential counsellor initially listens to your concerns and advises on the options for resolving the issue.
Confidential cousellors guarantee confidentiality. In principle, they act only with the agreement of the person
experiencing the problem. The person experiencing inconvenience takes the lead in deciding on action. However,
confidentiality is no longer upheld if a criminal offence has been committed and the police request information.
A confidential counsellor's primary task is therefore to assist, advise, support and guide persons experiencing
wrongdoing or inappropriate behaviour. The confidential adviser does not personally enter into any conversations
with the person complained about. However, with the consent of the person concerned, the confidential counsellor
may call in the relevant line manager, who then discusses the matter with the person complained about.
HANDLING A COMPLAINT USING THE COMPLAINTS PROCEDURE POLICY
If you have a complaint about inappropriate behaviour, investigations can be carried out and based on these, ITV may
impose a sanction. Investigations must be carried out with care. You can submit a complaint to the grievance
committee, which is an external committee that will then investigate your complaint. You can find all the information
relating to the complaints procedure in Grievance Procedure.
CONFIDENTIAL AND ANONYMOUS REPORTS
Concerns can be raised confidentially (where you provide your personal details) or anonymously (where you do
not – see the 'Anonymity' assurance in the section below). All Speak Up concerns raised under this Policy are
treated in confidence.

OUR ASSURANCES
● Confidentiality: Your identity will be kept confidential. Your identity will not be disclosed to anyone
beyond the authorised members of the designated Speaking Up team responsible for assessing and/or
investigating the matter (see Appendix 3) without your consent, unless we are required to do so by law
or to meet our regulatory or professional obligations.
● Non-retaliation: ITV will not tolerate any retaliation (including threats of retaliation) against an individual for
raising a concern, making a report or assisting in an (internal or external) investigation. Anyone who
knowingly conceals wrongdoing, or attempts to victimise, harass or deter a person raising a concern, will
face appropriate action by ITV. This could result in summary dismissal in the case of ITV staff, termination of
the relevant contractual relationship with ITV, or the matter being handed over to the appropriate authorities
to investigate further. As an ITV employee, your job will not be put at risk as a direct result of you Speaking
Up. No-one raising a concern will be disadvantaged as a result of Speaking Up, whether the concern is
proven or not, so long as the concern is genuine. Please raise any acts or threats of retaliation to your line
manager or the HR Director, Corporate Services.
● Assessment and action: Once you have raised your concern, ITV will assess it and consider what action is
appropriate. This may involve an informal review, an internal enquiry or a more formal investigation. ITV will
address all concerns appropriately and thoroughly. In some cases, it may not be appropriate or possible for
ITV to conduct an investigation itself, in which case alternative guidance may be given. Wherever possible,
once the review, enquiry or investigation has been completed, feedback will be provided to the individual
who raised the concern (See Appendix 3).
● Anonymity: If you Speak Up through our Speaking Up provider, Safecall, and state you wish to remain
anonymous, they will not disclose your identity to ITV. If you Speak Up through one of the other channels set
out in this Policy, and ask the individual not to disclose your identity, they will not do so without your
consent, unless required by law. If you Speak Up anonymously, you should understand that: (i) your identity
may become apparent during the investigation of your concerns (and, in this case, our assurances as to
confidentiality and non-retaliation set out above will apply); (ii) anonymity could limit ITV's ability to
investigate your concern or (in cases where it cannot conduct an investigation) give alternative guidance; (iii)
ITV could be unable to resolve a concern without revealing your identity (where known), for example where
your personal evidence is essential, in which case we will liaise with you as to how best to proceed.
● Individuals addressed in Speaking Up reports: Where a Speaking Up report raises concerns about the
conduct of an individual or individual(s), the identity of those individuals will be kept confidential. Their
identity will not be disclosed to anyone beyond the authorised members of the designated Speaking
Up team responsible for assessing and/or investigating the matter (see Appendix 3) without their
consent, unless we are required to do so by law or to meet our regulatory or professional obligations.
YOU SHOULD NOT USE THIS POLICY TO:
● Report events presenting an immediate threat to life or property. Please use the specific ITV or your local
emergency procedures instead.
● Report any grievances or personal employment issues you may have in relation to your terms of
employment. These should normally be raised in line with the Bullying, Harassment and Grievance
Procedures appropriate to your area of the Group.
● Settle personal or legal disputes.
● Make accusations which you know are false. Doing so may lead to disciplinary measures.
● Make any complaints or comments regarding ITV's programmes. This should be done via Viewer
Services (viewerservices@itv.com). The team can also be contacted via telephone on 0344 88 14150
(option four).
● Report any day-to-day issues regarding ITV facilities or workspaces. This should be done by contacting
workplaceserviceshelpdesk@itv.com.
ITV's usual health and safety incident reporting channels should be used for reporting specific health and
safety incidents. ITV's procedures require health and safety incidents to be reported through the Health
and Safety team or the reporting tool, airsweb AVA. For more information please refer to the airsweb AVA
page on my.itv and Compass.itv. However, if you have serious concerns that the health or safety of any
individual has been or may be endangered, or you believe that reports you made through usual health
and safety incident reporting channels have not been addressed, you are encouraged to raise a Speak Up
concern under this policy.
ITV encourages you to report concerns regarding ITV's third-party suppliers under this Policy. However
please note that in respect of concerns relating to activity taking place wholly within a third-party supplier,
where ITV does not have access to information and records, it is unlikely that ITV would be able to conduct
a proper investigation itself. In such cases, ITV does not have access to the required
information and files. ITV will however look to pass the complaint on to the third party as appropriate
or may consider whether it needs to take action with the supplier.

GUIDANCE FOR MANAGERS
● Managers are expected to listen to, acknowledge and support anyone who raises a concern and to
promote a working environment that supports Speaking Up without fear of reprisal.
● It is important that concerns raised with you are dealt with sensitively and confidentially, and that concerns
are escalated in accordance with this Policy so that they can be acted on as appropriate. Managers should
be familiar with this Policy. If as a manager you need further guidance on how to escalate or deal with a
concern raised with you, including those raised on an anonymous or 'no names' basis, you should refer to
the Guidance for managers.

POLICY OWNER AND OVERSIGHT
The Audit and Risk Committee reviews arrangements by which individuals may, in confidence, raise concerns
about possible inappropriate activity as detailed in this Policy. The Committee also reviews concerns raised
through the Policy to make sure that any significant matters receive independent investigation and appropriate
follow up action. The Group Secretariat team reports information on concerns raised and investigation results to
the Audit and Risk Committee at least twice a year. The identity of individuals raising concerns is not reported.
Group Secretariat has day-to-day operational responsibility for this Policy and will review this Policy from a
legal and operational perspective at least once a year.
APPENDIX 1 – OTHER AVAILABLE RESOURCES
ITV is committed to good governance and fully endorses the principle of accountability. Although you do not
need to raise your concerns with ITV before contacting an external party, we would encourage any concerns
to be raised with ITV first. If a concern about malpractice cannot be resolved within ITV there are
circumstances where external disclosure (whether to a regulator or more widely) is both lawful and
appropriate. Advice on these circumstances is available from Protect (see further below).
You may also seek advice from your union if you are a member, or should you prefer from your own lawyer. You
may do this before, at the same time as, or after you have raised your concerns internally.
There are also resources available to you to provide you with support and counselling if needed.
Other contacts are set out below:
● The ITV Ambassadors network and the Chairs of ITV's colleague networks can be a useful, confidential
sounding board and provide advice on how to raise your concern through the channels in the main part
of the Policy.
● Protect provide confidential advice to workers who are unsure of whether or how to raise a public interest
concern. Please note that they will not be able to raise a concern to ITV on your behalf. For whistleblowing
advice you can call them on 020 3117 2520.
● The Employee Assistance Programme is provided by Ascender (Dutch) or Workplace Wellness
(International). This is an independent organisation available 24/7 to which any ITV employee can turn for
independent and confidential advice and guidance. For advice, you can call them on 0800-3277378
(Ascender) or 0800 1116 387 (Workplace Wellness) (free from a UK landline). Alternatively, log on to
http://my-eap.com/login using the username itvwell.
● Togetherall (previously known as Big White Wall) offers free online mental health support to all ITV
colleagues 24/7. It has an active discussion forum where you can talk anonymously to other members, with
round-the-clock support from trained professionals. You can also access a wealth of useful resources and
work through tailored self-help courses covering topics such as anxiety, sleep, depression and many more.
You can find the contact details on my ITV.